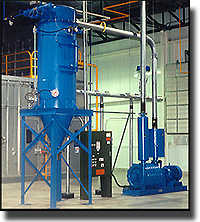 Typical Central vacuum system.
5 Hp to 300 Hp
Vacuum to 14" Hg
Flow rates to 30,000 SCFM


Central Vacuum Systems
The Vacuum Source for your Industrial Applications

We will properly design your central vacuum system to fit your requirements and your budget.
With over 20 years design experience, the software tools, and personal service the system you get
will work for years to come!

Choose a positive displacement or a centrifugal
vacuum producer. We offer pulse jet cleaning in
either cartridge type or bag filters. Our P84 and
HEPA media are very efficient.
Designed to meet your requirements.

Designed to use the proper vacuum
pump for your unique application.

Choice of filtration media.

Choice of discharge and storage system.

Piping and discharge systems
that are no plug and hassle free!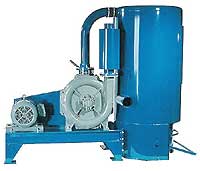 Choose Delta-P Vac
Centraleze Series
for your next central vacuum system
Delta-P Vac
DP Centraleze Series

The centrifugal pre-tested Delta-P Vac offers awesome service life and is quiet.

15 to 30 Hp
Vacuum to 100" S.P. (7.5" Hg)
Flow to 1300 ACFM
Up to 195.1 Sq. Ft. filtration
6.0 cubic feet of usable storage
Optional pulse jet cleaning

Go up to (10) operators at the same time
easily.


Call or -mail for Delta P Centraleze brochure
We'll respond to your request quickly!
Industrial Vacuums Systems Home
Portable Vacuums | Central Vacuum Systems
Vacuum Loaders
Tubing and Fittings | Hose, Tools, and Attachments
About Us | Our Distributors | Contact Us

Processing Vacuums
Industrial Vacuum Systems
866-973-7003
PHONE: 859-543-8524 FAX: 859-543-8534


Terms and Conditions

© 2003 Processing Equipment, Inc.
title: Industrial Vacuum Systems by Processing Equipment
Visit:
Industrial cartridge filters
|
Vacuum Tubing
|
Industrial Central Vacuums
|
Vacuum Hose